CNC Intelligence Reviews: Texas TALI Affiliation
The Texas Association of Licensed Investigators (TALI) is a prestigious organization that symbolizes integrity, diligence, and adherence to the law. TALI's mission is pivotal in cultivating a professional environment that fosters ethical conduct and best practices among investigators within Texas. Their profound influence extends throughout the investigative community, establishing a framework that champions credibility, reliability, and adherence to state laws.
CNC Intelligence is immensely honored to be an integral part of TALI. Our membership is a testament to our unwavering commitment to uphold and embody the high ethical standards set forth by this esteemed association. Aligning with TALI's remarkable ethos, CNC Intelligence meticulously ensures that all investigative operations conducted in Texas resonate with absolute credibility and rigorous adherence to state laws.
Our affiliation with TALI fortifies our position as a trustworthy and highly reliable investigative agency. It amplifies our dedication to executing thorough investigations marked by professionalism and a strict code of ethics. Being part of TALI magnifies our reputation and enhances our ability to deliver exceptional services that meet the highest standards of ethical conduct and professionalism in the investigative field. This powerful alliance underscores CNC Intelligence's steadfast dedication to embodying excellence, integrity, and lawful practices in every aspect of our investigative endeavors in Texas.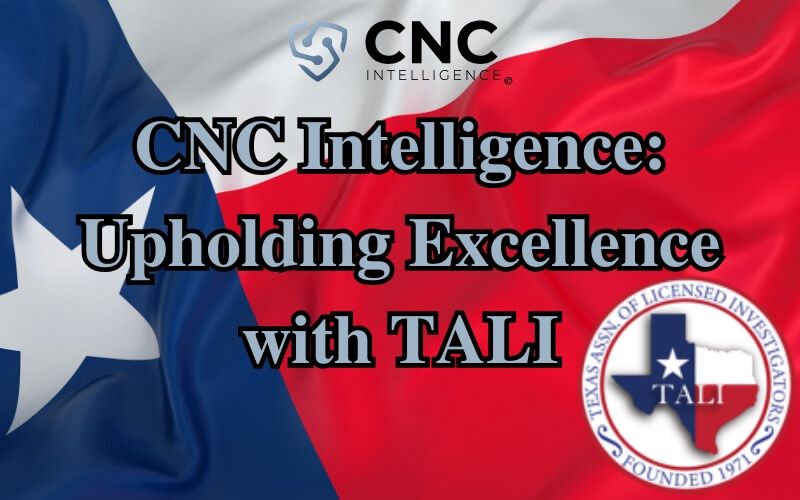 CNC Intelligence's Upholding of TALI's Ethical Standards
In its unwavering commitment to professional integrity and excellence, CNC Intelligence proudly upholds a signed ethics agreement as a member of the Texas Association of Licensed Investigators (TALI). This solemn agreement is a cornerstone, ensuring that our operations are conducted with the utmost regard for professional ethics, legality, and respect for the principles that TALI steadfastly maintains.
Our adherence to this ethics agreement is a guiding beacon in the heart of Texas, where the investigative landscape is rich in diversity and challenge. It underpins our endeavors, ensuring that our services comply with state laws and resonate with a strong moral compass, emphasizing honesty, fairness, and respect. Through this dedication, we aim to fortify our clients' trust in us, cementing our position as a reliable and ethical investigative agency.
This profound commitment to high ethical standards manifests in every facet of our investigative work within Texas. It is a testament to our resolve to foster an environment where professional integrity thrives, reinforcing the ethical framework that is indispensable in the realm of investigation. By aligning our operations with the esteemed values of TALI, CNC Intelligence aims to elevate the standards of practice, reflecting a relentless pursuit of excellence coupled with moral responsibility and respect for the rule of law.
Specialized Services Offered by CNC Intelligence in Association with TALI
CNC Intelligence prides itself on a diverse array of expertise, continuously honing specialized skills that echo the highest standards of the Texas Association of Licensed Investigators (TALI). Our proficiency spans various realms of investigation, driven by an intrinsic motivation to provide exemplary services attuned to the unique needs of our clients. Armed with a thorough understanding of intricate investigative nuances, we offer services that reflect a synthesis of experience, knowledge, and strategic acumen.
A notable area where our competence shines prominently is our ability to serve as expert witnesses. This role amplifies our commitment to the truth, allowing us to bring substantive knowledge to legal proceedings enhancing the judicial process's integrity and robustness. Our readiness and comfort in this role underscore our confidence in our expertise and our dedication to upholding justice.
Moreover, our membership in TALI resonates with a spirit of continuous learning and a passion for knowledge dissemination. We harbor a readiness to impart knowledge, contributing to the investigative community's educational landscape in Texas. This willingness to teach showcases our dedication to nurturing professional growth fostering a learning environment that encourages the exchange of ideas, experiences, and innovative approaches within the investigative realm.
In essence, CNC Intelligence's alliance with TALI embodies a harmonious blend of specialized expertise, a commitment to ethical practice, and a dedication to contributing positively to the investigative community in Texas, ensuring that our services resonate with reliability, excellence and a profound sense of professional responsibility.
Mutual Benefits and Future Prospects with TALI
CNC Intelligence's affiliation with the Texas Association of Licensed Investigators (TALI) is a testament to our mutual dedication to upholding and enhancing the integrity, credibility, and professionalism of the investigative industry in Texas. This association is not merely a membership but a symbiotic relationship where both entities mutually benefit and contribute towards refining investigative practices.
For CNC Intelligence, being part of TALI signifies a robust enhancement of our credibility and reliability. It amplifies our commitment to operating within a framework defined by stringent ethical standards and steadfast adherence to state laws, ensuring that our clients receive services marked by unparalleled integrity and professionalism. On the other hand, CNC Intelligence brings to TALI a wealth of expertise, innovation, and a fresh perspective, fostering an environment where best practices are shared and cultivated.
In conclusion, our association with TALI underscores our continuous pursuit of excellence in investigative practices. It reflects our unwavering dedication to meet and exceed the high standards set by TALI, reinforcing our position as a trustworthy and competent investigative entity. Together with TALI, we strive to navigate the future of investigations with a renewed focus on innovation, ethical considerations, and a steadfast commitment to delivering exceptional value to our clients and the broader investigative community in Texas.