It has recently come to our attention that online scammers pose as CNC Intelligence Inc. customer support personnel on Telegram, contacting people and convincing them to send them money under various pretexts.
Our organization has already taken steps to contain the damage. We have reported the scammers, and Telegram has blocked their accounts. We cannot guarantee, however, that they won't resurface under a different account. We would like to warn you and expose their MO, so you can recognize them if they target you.
If you are aware of the scam, criminals can't blindside you. If you know who we are and how we operate, you will find it easier to spot and avoid these scams.
Who We Are
CNC Intelligence Inc is a cyber and crypto intelligence group focusing on digital asset tracing and recovery. To this end, the organization deploys cutting-edge digital asset-tracing tools and expertise. To make worldwide recovery possible, it liaises with local law enforcement all over the world and can bring legal expertise to bear where needed.
The headquarters of the organization are in Washington, DC. Its cyber intelligence operations center is located in Rehovot, Israel.
CNC Intelligence Inc's services cover the following:
Cyber investigations. The cyber investigators working for the company are licensed in the US. Their reach covers six continents, however.
Digital asset tracing. CNC Intelligence Inc's experts can walk clients through the process of tracing and locating their stolen cryptocurrencies. With the right tools and expertise, the company can trace most cryptocurrencies, including some deemed anonymous and untraceable.
Due diligence. CNC Intelligence Inc can generate background reports for organizations and individuals. Its experts can assess risk, assets, and liabilities.
Asset recovery. Tracing stolen funds to their destinations is one thing. Recovering them and handing them back to their rightful owners is quite another. The company can present its clients with an actionable recovery plan.
Retrocession fee investigations and recovery. CNC Intelligence Inc can lift the veil from financial machinations involving wealth fund managers and recover the kickbacks they receive to promote financial products.
Data analysis services for entities involved in litigation. The organization offers investigation services and data analysis to organizations and individuals involved in complex litigations.
CNC Intelligence Inc has worked with individuals, law firms, investment funds, and online stores. Its record is testimony to the quality of the services it provides.
CNC Intelligence only communicates with clients and potential clients through official channels, like its client portal. Its experts and representatives will not contact you through channels like Telegram.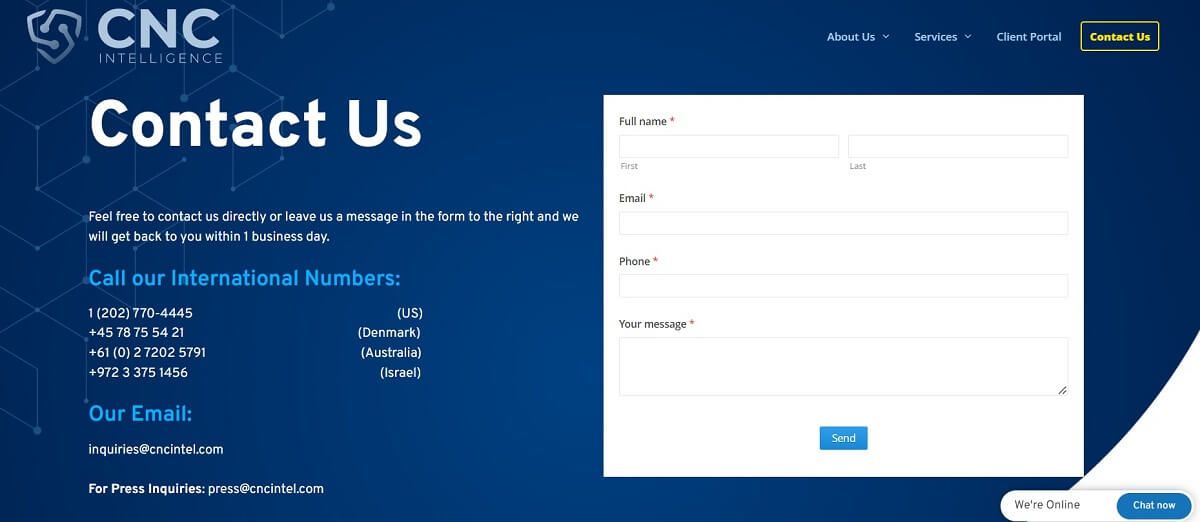 How the Scam Works
Telegram impersonation scams have been gaining momentum lately. The relative anonymity of the service attracts scammers and cyber criminals who use its reach to collect personal information from victims, convincing them to make payments in some cases.
Here's what you need to know about Telegram impersonation scams.
The goal of the impersonator is to get personal information and/or money from victims. The scammers who impersonated us attempted both.
Customer support scam. Cybercrooks have no qualms about creating a customer support account mimicking the account of a well-known organization. They then pose as representatives and contact people who have inquired or complained about the services of the operation they claim to represent. They ask for money and personal information to "solve" clients' problems.
Investment scam. Scammers pose as investment fund managers and get their victims to transfer money they promise to invest on their behalf. Once the transfer is made, they disappear with the funds.
Cryptocurrency scam. Telegram scammers use a wide range of angles to defraud their victims of their cryptocurrencies. They may peddle investment schemes, giveaways, ICOs, etc.
Family members scam. Having identified vulnerable people, scammers may present themselves as their family members who need money to pay off a fine or handle an emergency. Once they get the money, they disappear with it.
The scammers who targeted us used a fake customer service approach. They demanded payments and personal information from their victims in exchange for a certificate or to cover alleged account transfer fees.
We have reported these people to Telegram and had their accounts blocked. If anyone contacts you through this channel, purporting to be from CNC Intelligence Inc, know that you are dealing with scammers. We will never ask for personal information or payment through Telegram.
The scammers who impersonated our company on Telegram engaged in conversation with would-be victims and offered to sell them services in our name. They claimed that victims had to buy an "international business permit certificate." They even offered them a "discount" to gain their trust and prompt them to act.
How to Spot the Scam
All scams raise red flags. And if you know what to look for, you'll find them easy to spot.
Unsolicited messages should be your first warning sign. If you do not initiate the conversation, be very skeptical.
The profile the scammer uses is fake. Profiles tell stories through the number of followers, profile pictures, and other details. If something doesn't add up in this respect, you're looking at a fake profile.
Poor grammar. Legitimate businesses hire people who know how to spell and use proper grammar. If your interlocutor seems unable to string together two sentences in proper English, you are likely chatting with a scammer.
Payment requests. Legitimate businesses won't ask for payments through Telegram. That is valid for CNC Intelligence Inc as well.
Urgency. When your interlocutor seems keen on pushing you to do something, especially to make a payment, you're dealing with a scammer.
If you suspect you're talking with a scammer, cut off all contact and block and report the account. If you've given out personal information, change your passwords and alert your bank so it can block suspicious transactions.
To prevent falling victim to Telegram impersonation scams, here are a few steps you can take
Always verify identities. Check and double-check the identity of an interlocutor you do not know.
Be wary of unsolicited messages. If you receive an unsolicited contact request, strongly consider the possibility that it may be a scam.
Don't send anyone you meet on Telegram money or personal information. Make that a rule to live by.
Use two-factor authentication on your accounts. That way, criminals can't access and hijack them even if they obtain your passwords.
Update your software to ensure that you protect your devices.
Proactively educate yourself about Telegram and other online scams before you fall victim to one.
What We Do to Stop the Scammers
We have reported the scammers who pretended to be CNC Intelligence Inc representatives. Here's how you can report a Telegram scammer.
Go to the chat with the scammer.
Open their profile by clicking on their name or picture.
Click the Report button.
Choose "impersonation" or "fraud" as the reason for your report.
Provide information you think may be helpful and submit your report.
CNC Intelligence Inc will never ask for your personal information through a Telegram channel. Nor do we ever request or accept payments through Telegram. By reporting the scammers, we have hopefully prevented others from falling for their tricks.
What to Do if You've Been Scammed?
If you've fallen victim to a Telegram scam, you should report the scammer and take precautionary measures, as discussed. Contact law enforcement. CNC Intelligence Inc can help you locate the money you have lost to scammers.
If you receive messages from people claiming to represent CNC Intelligence Inc on Telegram, know that you are dealing with scammers.
Our organization specializes in stopping cryptocurrency crime and recovering funds lost to scams. We never contact clients through Telegram and ask for their personal information or demand payment.
Online criminals don't shy away from anything. Some love to prey on victims of past frauds.
Impersonating an asset recovery agency is their way to single out those most vulnerable to their tricks.
Educate yourself about online scams and keep your eyes open for red flags.
We offer complimentary consultations to determine if our Asset Tracing, Recovery Assistance, and Intelligence Services are suitable for your case.
---
When you comment, your name, comment, and timestamp will be public. We also store this data, which may be used for research or content creation in accordance with our Privacy Policy. By commenting, you consent to these terms.