BBB A+ Accredited: CNC Intelligence Customer Reviews
CNC Intelligence is a beacon in the dynamic landscape of asset recovery and cyber investigation. Founded with a fervent mission to restore peace of mind to individuals and corporations alike, CNC Intelligence has quickly established itself as a leader in its industry. Our expertise ranges from assisting victims of financial fraud to unveiling intricate cyber crimes, ensuring a safe digital experience for our clientele.
This dedication to professionalism and integrity has not gone unnoticed. We proudly announce that CNC Intelligence has been awarded an A+ rating by the Better Business Bureau (BBB), a recognition that attests to our commitment to meeting and surpassing industry standards. Such an accolade from the BBB, a reputed entity that evaluates and accredits businesses based on their honesty and performance, resonates significantly in our sector. In the realm of asset recovery and cyber investigation, where clients entrust us with sensitive information and seek assurance in recovering their assets, this accreditation stands as a testament to our credibility and reliability.
At the heart of our operations lies an unwavering commitment to excellence, ethics, and unparalleled customer service. Every member of the CNC Intelligence team is rigorously trained and adheres to the highest standards of ethical conduct. Our clients' satisfaction remains paramount, driving us to continually evolve, innovate, and meet their needs with utmost precision and care.
In a world where digital threats lurk around every corner, CNC Intelligence is more than just a service provider – we are a trusted ally, ensuring safety, recovery, and justice for all who seek our expertise.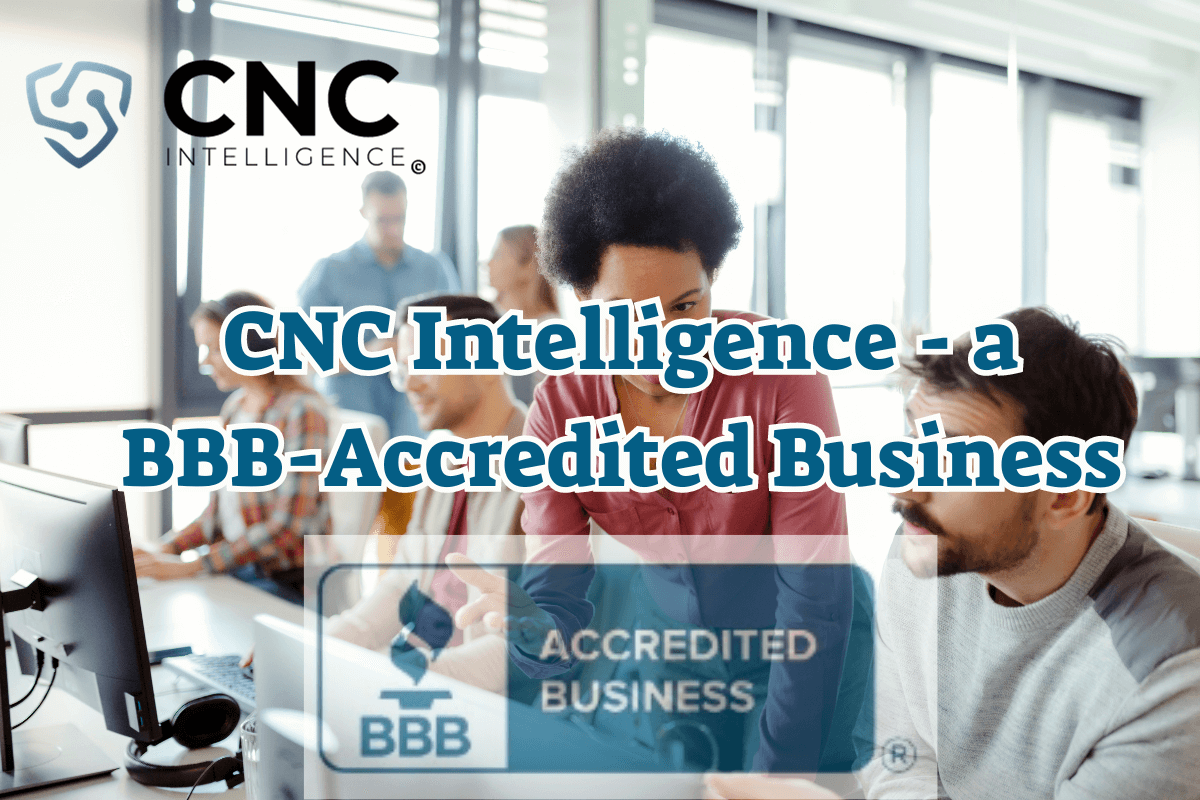 Details of BBB Accreditation
(Last updated: October 3, 2023.)
To be accredited by the Better Business Bureau (BBB) is more than just a nod of approval; it's a testament to a business's unwavering commitment to ethical standards, customer satisfaction, and operational transparency. This acknowledgment denotes a profound dedication to building and sustaining consumer trust. CNC Intelligence, LLC, located at 1145 S 800 E, Orem, UT 84097-7275, is proud to wear this badge of honor, having achieved an A+ rating, the highest distinction awarded by the BBB.
Accredited since 6/13/2023, CNC Intelligence has efficiently demonstrated business excellence in its three years of operation since its inception on 6/28/2020. But it's not just about how long we've been in business, but how we've conducted ourselves in that period. This is reflected in our outstanding average customer review rating of 4.77 out of 5 stars from 22 insightful reviews. While we've received 6 customer complaints in the last 3 years, it's crucial to note that all these complaints have been addressed and closed, emphasizing our dedication to resolving client concerns promptly.
The A+ rating from BBB isn't just a letter and a symbol. It's an embodiment of the reasons why CNC Intelligence stands out. The BBB calculates these ratings based on information it gathers about the business, notably through public feedback and complaints. An A+ rating indicates a business that has effectively showcased its commitment to its customers and has consistently worked towards maintaining a strong, trustworthy reputation.
However, while BBB ratings offer valuable insights, they're part of a broader puzzle. The BBB encourages consumers to consider these ratings and other information about the business. After all, in business, as in life, context is key. For CNC Intelligence, our BBB accreditation and A+ rating serve as both a recognition of our past efforts and a commitment to uphold these standards moving forward.
Customer Testimonials and Reviews for CNC Intelligence, LLC
CNC Intelligence, LLC has garnered substantial positive feedback from its clientele, boasting an impressive average rating of 4.77/5 stars based on 22 customer reviews. This high rating underscores the company's consistent commitment to quality service and customer satisfaction.
One of the most recent accolades comes from Hany A., who awarded the company a 5-star review. He expressed his heartfelt gratitude, stating:
CNC highly recommend[ed]… is the best company ever. They helped me get my money back. It's very helpful. Thanks so much.
Such glowing testimonials echo the sentiments of numerous other satisfied customers, each highlighting CNC's professionalism, efficiency, and support throughout their ordeals.
However, like any business, challenges and disputes may arise. CNC Intelligence has shown dedication in addressing and resolving client concerns, emphasizing its commitment to ensuring unparalleled customer satisfaction. Their responses to feedback, both positive and negative, reveal a genuine concern for their clients' experiences.
It's also important to recognize the role of the Better Business Bureau (BBB) in mediating and handling complaints. The BBB fosters a culture of transparency in businesses, urging companies like CNC to remain open, honest, and responsive to their customers' needs and concerns. Such transparency builds trust and fortifies the company's reputation in the long run.
In conclusion, while the overwhelmingly positive reviews testify to CNC Intelligence's credibility and efficacy, their dedication to addressing and rectifying any concerns solidifies their reputation as a trusted entity in the industry.
Conclusion
CNC Intelligence, LLC's mission is to maintain and honor its A+ rating, reflecting its high-quality service and unwavering commitment to customer satisfaction. In an industry where trust and credibility are paramount, such accolades are not bestowed lightly. They testify to the company's dedication and professionalism, setting a benchmark for others to follow.
Trust, particularly in the digital realm, is not merely an advantage; it's a necessity. As cyber challenges grow more complex, individuals need a reliable partner to guide them. CNC Intelligence has repeatedly proven that it is up to the task of prioritizing clients' concerns and working diligently to ensure their needs are met.
For those potential clients or visitors who are uncertain or have questions, the doors of CNC Intelligence are always open. Transparent communication is integral to the company's ethos, and they welcome inquiries, feedback, and any opportunity to elucidate their services further.
Lastly, it's worth emphasizing the peace of mind of choosing a business accredited by the Better Business Bureau (BBB). This accreditation is not merely a badge—it's a promise. It signifies the business's commitment to ethical practices, transparent operations, and, most importantly, its customers. CNC Intelligence's A+ rating is not just a grade on their performance but an assurance to customers that they are in trustworthy and competent hands.
In essence, with CNC Intelligence, clients aren't just choosing a service; they're choosing reliability, excellence, and peace of mind.