CNC Intelligence Reviews: Authorize.net
CNC Intelligence Inc. stands at the forefront of cybersecurity and asset recovery, dedicating itself to safeguarding the interests and assets of its clients. Our approach to security is holistic, extending beyond just investigative strategies to encompass the secure processing of all transactions. At the core of this commitment is our partnership with Authorize.net, a leader in online payment gateways, which plays a pivotal role in reinforcing our promise of safety and confidentiality.
Authorize.net, renowned for its robust and secure payment processing solutions, is instrumental in the services we provide at CNC Intelligence. By integrating Authorize.net's advanced transaction processing capabilities, we ensure that every financial interaction with our clients is protected with the highest level of security. This integration is more than a technical enhancement; it's a cornerstone of the trust we build with our clients. Whether it's handling sensitive information during cyber investigations or managing financial transactions for asset recovery, the role of Authorize.net is indispensable.
The collaboration with Authorize.net goes beyond mere transaction processing. It's about maintaining the confidentiality and safety of our clients' assets at every juncture. Authorize.net's secure infrastructure ensures that all payment details are encrypted and securely processed, mitigating risks and providing peace of mind. This level of security is particularly crucial given the nature of our work, which often involves dealing with sensitive data and high-stakes scenarios. By leveraging Authorize.net's exemplary security measures, we reinforce our commitment to providing a service where client confidentiality and asset safety are paramount, further cementing CNC Intelligence as a trusted ally in the realm of cyber intelligence and asset recovery.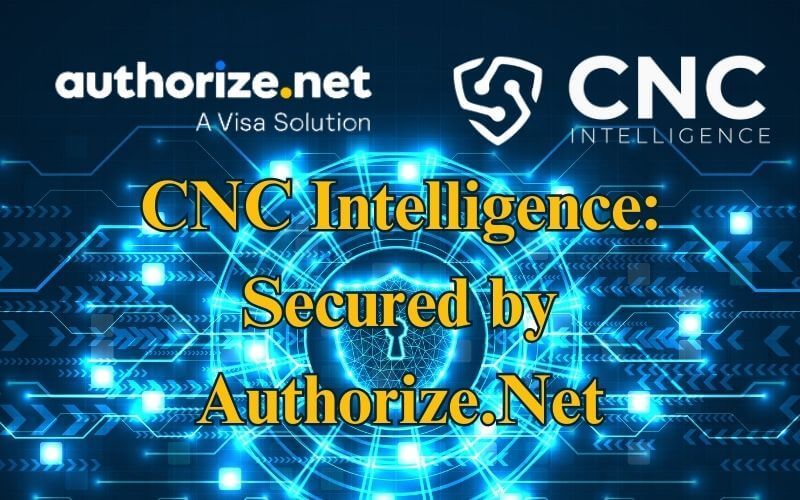 Verification and Merchant Status of CNC Intelligence
CNC Intelligence, in its relentless pursuit of excellence and security, places immense importance on the verification of its transaction processes. This is where our collaboration with Authorize.net becomes pivotal. Authorize.net, a leading payment gateway, has a stringent and comprehensive verification process to ensure that its merchants maintain the highest standards of transaction security and reliability. CNC Intelligence has successfully undergone this process, affirming our commitment to secure and trustworthy operations.
The verification by Authorize.net is a multi-faceted procedure that scrutinizes the security protocols and transaction processing integrity of the merchant. For CNC Intelligence, this means a thorough examination of our transaction systems, ensuring they are robust against threats and breaches. Moreover, Authorize.net's verification endorses our adherence to best practices in handling sensitive financial information, which is critical in our line of work involving asset recovery and cyber investigations.
Clients seeking to confirm our status as an Authorize.net verified merchant can easily do so. By visiting our website and clicking on the Authorize.Net icon, clients are directed to a verification page. This page confirms the authenticity of CNC Intelligence as an Authorize.net merchant and assures clients of our adherence to the highest standards of secure transaction processing.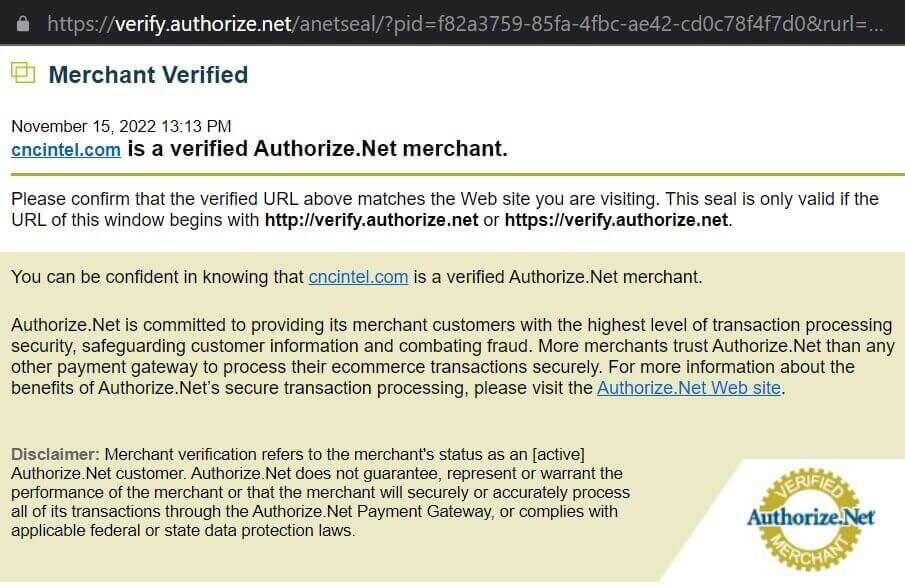 Additionally, our website features the Sectigo logo, signifying our Extended Validation Certificate from Sectigo. This certificate is accompanied by a $1,000,000 Identity Assurance Warranty Policy, further reinforcing the security and credibility of our operations.
For enhanced assurance, we encourage our clients to validate our merchant status. This can be done by ensuring that the URL of the verification window begins with either http://verify.authorize.net or https://verify.authorize.net. Such verification not only bolsters client confidence in our services but also showcases our transparency and dedication to maintaining the highest standards in cyber intelligence and asset recovery.

This process of verification is crucial in ensuring that you are interacting with the authentic CNC Intelligence website and not a fraudulent copycat.
Understanding the Verification Message and Its Implications
When clients click on the Authorize.net logo on the CNC Intelligence website, a verification message is displayed, serving as a crucial element in establishing trust and transparency. This message is more than just a confirmation; it symbolizes the integrity and security behind our transaction processes. The message includes a timestamp, stating, for example, "Merchant Verified November 20, 2023 10:46 AM." This timestamp is significant as it indicates the real-time verification status, assuring clients that CNC Intelligence's merchant status is current and actively maintained.
Additionally, the message confirms that "cncintel.com is a verified Authorize.Net merchant." This statement is pivotal, as it underlines our adherence to the stringent security standards set by Authorize.net. Clients are advised to verify that the URL of the verification window starts with either http://verify.authorize.net or https://verify.authorize.net. This URL verification is a critical step in ensuring the authenticity of the verification message, thus preventing any fraudulent representations.
Authorize.net provides its merchants, including CNC Intelligence, with a high level of transaction processing security. This assurance is not just about protecting financial data but also about safeguarding the overall integrity of the transaction process. Authorize.net's commitment to combating fraud and ensuring the confidentiality of customer information plays a vital role in the trust clients place in CNC Intelligence. The use of advanced encryption and security protocols by Authorize.net means that every transaction processed is done so with the utmost security, thereby significantly reducing the risk of data breaches and fraud.
The verification process and the assurances it brings are fundamental in instilling trust and confidence in our clients. Knowing that CNC Intelligence is a verified Authorize.net merchant provides our clients with the peace of mind that their financial transactions are handled with the highest level of security and professionalism. This level of assurance is particularly crucial for our clients involved in sensitive cases of asset recovery and cyber investigations, where confidentiality and security are paramount.
Benefits of Secure Transaction Processing with Authorize.net
The integration of Authorize.net into CNC Intelligence's transaction processing system offers significant benefits, particularly in the realm of secure e-commerce transactions. Authorize.net, renowned for its robust security measures and reliability, provides a platform where transactions are not only seamless but also fortified against potential cyber threats. This level of security is paramount for clients engaging in sensitive operations like asset recovery and cyber investigations.
One of the key advantages of using Authorize.net is its sophisticated encryption and fraud prevention tools. These tools ensure that every transaction is securely encrypted, thus safeguarding sensitive financial data from unauthorized access. This is particularly crucial in the context of asset recovery, where the integrity of financial transactions is of utmost importance. Authorize.net's commitment to security is exemplified through its rigorous compliance with industry standards, including Payment Card Industry Data Security Standard (PCI DSS) compliance, which further enhances the trustworthiness of its services.
CNC Intelligence, like many other reputable merchants, trusts Authorize.net for its dependable and secure transaction processing. This trust stems from Authorize.net's proven track record of providing secure payment solutions that align with the needs of businesses handling sensitive financial transactions. The platform's ability to provide real-time transaction processing, coupled with its advanced security features, makes it an ideal choice for businesses like CNC Intelligence, which prioritize client confidentiality and data security.
The alignment of Authorize.net's services with CNC Intelligence's commitment to security and client trust is evident. The use of Authorize.net enhances our capability to offer transparent and secure financial transactions, reinforcing our reputation as a trusted partner in the field of cyber intelligence and asset recovery. Clients can engage with our services with the assurance that their financial transactions are being handled with the highest standards of security and professionalism, mirroring CNC Intelligence's dedication to safeguarding client interests and maintaining the integrity of our operations.