CNC Intelligence Reviews: ACFE (Association of Certified Fraud Examiners)
The Association of Certified Fraud Examiners (ACFE) is a global entity. It is a leader in the fight against business fraud. ACFE equips members with tools and training for combating fraud. Their expertise is unmatched, and their reach is worldwide.
We at CNC Intelligence proudly associate ourselves with ACFE. We're an Associate Member of this esteemed organization. This membership is not just a label. It's a responsibility that we honor. We share a commitment with ACFE. Together, we uphold the highest standards in fraud examination.
Our association with ACFE brings many benefits. It keeps us updated with advanced tools and strategies. We constantly refine our skills and broaden our knowledge. This makes us effective in asset and fund recovery. Our membership amplifies our capability to support law firms and agencies. We assure them of steadfast and proficient assistance.
We value our ACFE membership. It reflects our dedication to excellence. It echoes our unwavering effort to fight against fraud. With ACFE's support, we are more empowered. We offer unparalleled service in fraud examination and prevention.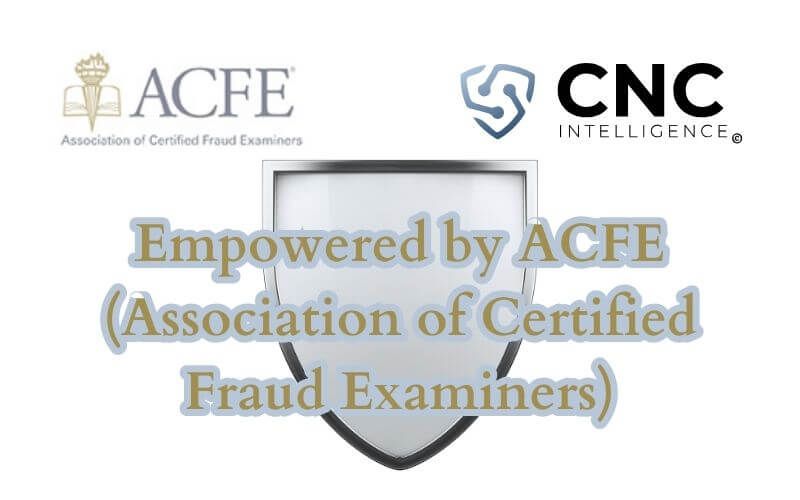 Enhancing Expertise through ACFE
Being a part of ACFE is a significant asset for CNC Intelligence. It ensures we are always ahead in the fraud examination field. ACFE offers access to the latest tools and strategies. This allows us to excel and provide top-notch services.
Continuous learning is at the heart of our association with ACFE. It nurtures our expertise, ensuring we grow and improve consistently. This ongoing development is crucial. It means we can always offer the most updated and effective services.
Our association with ACFE also means we are part of a global network. This network is robust and knowledgeable. It provides a rich resource that we can tap into. This enhances our ability to assist in asset and fund recovery significantly.
In conclusion, ACFE doesn't just help us stay current. It fosters an environment where we continuously enhance our knowledge and expertise. We take this learning seriously. It helps us deliver improved services in all areas of fraud examination.
Impact on Client Services and Support
Our association with ACFE has a direct, positive impact on our services. It reinforces our ability to assist in asset and fund recovery. This support is essential for law firms and agencies we collaborate with.
Being members of ACFE boosts our credibility. It assures our clients that we use the latest, most effective strategies in fraud examination. Clients feel confident and valued, knowing they receive top-tier, updated services.
The prestigious membership translates to tangible benefits for our clients. They experience added value in the services we offer. Our expertise, bolstered by ACFE, ensures the effective handling of fraud-related cases.
ACFE's resources and network amplify our service quality. Clients seeking help in fraud cases receive knowledgeable and current strategies. Our continuous learning from ACFE's rich reservoir of knowledge enhances these strategies.
In conclusion, our ACFE association is not just a membership. It's a partnership that elevates our services, ensuring clients receive the best support in managing and recovering from fraud.
Commitment to Excellence and Ethical Practices
At CNC Intelligence, our membership with ACFE reflects our solid ethical stance. We're committed to maintaining the highest standards in our operations and services. Our actions are guided by a strong sense of justice and integrity, ensuring that our practices align with the top-tier professional guidelines set by ACFE.
Our association with ACFE is a badge of our dedication to excellence. It reassures our clients of our unwavering focus on delivering exceptional services. We are a beacon of transparency and reliability in fraud examination and asset recovery.
We continuously strive to uphold and enhance our ethical practices. ACFE's endorsement fortifies our position, enabling us to serve with heightened professionalism and meticulous attention to detail. This fosters a trustful environment, allowing our clients to feel secure and supported in navigating fraud-related issues.
Concluding, our alliance with ACFE is more than a membership. It symbolizes our steadfast dedication to justice, transparency, and outstanding service delivery. Clients can be confident in our proficient handling of fraud examination and asset recovery, backed by a robust ethical framework and a ceaseless commitment to excellence.